A New Year Cairn
By Rob Cresswell
If you've ever been hill walking you may have come across a cairn; a pile of stones or rocks heaped up in a significant place. The most common of these sites is at the highest point of a hill or prominence – often marking the top of a big climb. It lets you know you've arrived, you've done it! Just like many who have been here before you, it's time to sit down and enjoy the view, and if you've packed one, have a spot of lunch. I've got a video to show you in a moment that I took at the top of a mountain in North Wales recently…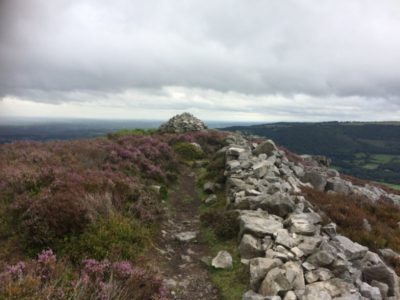 Photo: A cairn near our cottage in North Wales
The cairn is a place of pause and appreciation. Every stone represents someone who passed through here before us. There may have been some hard climbs and bad weather on the way up and we feel a sense of relief and achievement. Placing a stone on the cairn helps to mark this achievement and share it with others who come after us.
The turn of the year is a good time to reflect on life and particularly our journey over the past year. We can consider what we feel good about as well as the difficulties and challenges that we've had to face. Articulating these or even writing them down can help us move forward with a renewed sense of purpose. It can be a bit like sitting on that hill top and deciding to place a stone or two on the cairn. This can create a meaningful moment that can become a monument, not just for us but for others too.
Reflecting on the past year
First it's good to focus on the positives. One of the oldest descriptions of a cairn is in the book of Joshua as the Israelites cross over the Jordan River to enter their promised land. This passage over the river was accompanied by an amazing miracle as God held back the flood waters to allow the thousands of Israelite families to cross over. Joshua gave this instruction to 12 of the Israelite tribal leaders:
"Go over before the ark of the Lord your God into the middle of the Jordan. Each of you is to take up a stone on his shoulder, according to the number of the tribes of the Israelites, to serve as a sign among you. ‭‭Joshua‬ ‭4‬:‭5‬-‭6‬ ‭NIV‬‬
Then…
"Joshua set up the twelve stones that had been in the middle of the Jordan at the spot where the priests who carried the ark of the covenant had stood. And they are there to this day." ‭‭Joshua‬ ‭4‬:‭9‬ ‭NIV‬‬
So place a stone on the cairn (or write a note in your journal) that represents those times of Gods blessings and provision in your life. Let it be a testimony to his faithfulness and goodness. When I think back on this past year I think of Aliss opening the Miracle.Cafe in Bangor, of new friendships, the kindness of people letting us stay in their homes, and all the times God made a way where there was no way.
And then there are the stones that represent hardships and pain. I've had a tough year in many ways this last year, particularly with close family health issues and bereavements. But often it's the hardships and difficulties of life that shape us most of all and times of reflection can help us to see beyond the grief. In this way we can begin to appreciate the preciousness of our relationships more than ever and thank God for what others have imparted into our lives.
VIDEO: I Had a great day walking around the Lake Ogwen peaks (Snowdonia, North Wales) at the end of August last year while Aliss was at the café in Bangor. The day began with low cloud that cleared up as the day went on. I set out at Idwal cottage and then climbed up to Carnedd Dafydd peak – walked along the ridge to Carnedd Llewelyn and then up the other side of the valley to go around Tryfan – there were some hard climbs but I never get tired of these views.
Enjoying the View
There may have also been some unexpected delights on the way up and it's an opportunity to remember those times too. A sudden breakthrough of sunshine, a brilliant rainbow or perhaps the discovery of a place of peace. Here at the top we can also take in the amazing view – not everyone gets to see this 360 vista and we feel privileged to share it. We are impressed with Gods majesty and the vastness of His creation.
It's not only mountain tops that are marked by cairns. If a terrain is particularly difficult to read and the paths are vague travellers can leave stones as way-markers. I've been particularly glad of these on occasions where I'm trying to find my way up a hill without a path. Then there are the little cairns that appear on a significant stopping place on the way to the top. This could be a nice flat area with good places to sit half way up a rather steep climb. It's a little breather and the pile of stones left by others say – "Well done, you're half way up, keep going!"
Journaling can be like these way-markers and encouraging cairns. We can get a sense of the journey, of where we've been and how far we've come.
Making Memorials on the Landscape of Life
For Joshua and the children of Israel the cairn by the Jordan became a memorial to much more than the miracle itself. It wasn't at the top of a mountain but perhaps figuratively it was. The memorial stones marked the transition of the Israelites from a nomadic desert people to settlers and warriors of a Kingdom. It's powerful to mark significant transitional times in our lives with acts of thanksgiving and testimony. It releases the blessing and power of God into our future when we do this (Find out more in 'The Spirit of Prophecy' video).
Reflecting on the past is a valuable way to begin to adjust and determine our plans for the future too. When we take time to consider our recent history, for example, our various relationships and how they are developing (or not), it helps us form goals and objectives for the future. Where do we want to focus and invest our time? How can I make that better in the future? It's the same with our job or spiritual growth. We can decide to make changes that can leave some things we don't want in the past and form goals that we would like to achieve in the future.
What will you place on the cairn at the beginning of this year?
LIFE GPS: GOD'S PURPOSEFUL STRATEGY
LIFE GPS IS A SERIES THAT HELPS YOU NAVIGATE YOUR WAY FORWARD IN LIFE WITH PURPOSE AND CLARITY. PULLING TOGTHER THE VARIOUS ASPECTS OF OUR CHARACTER AND EXPERIENCE WE ARE ABLE TO BEGIN TO FORM GOALS AND TAKE STEPS TOWARDS OUR GOD GIVEN DESTINY.
This online video course is packed with practical tips, guides and Biblical wisdom to help you navigate your way in life with more focus and clarity. It even includes TWO ONLINE QUIZZES to help you identify your PERSONALITY 'STYLE' and your SPIRITUAL GIFTING proclivities. We set personal application activities with each episode including WORKSHEET DOWNLOADS. And the best part is the whole 8 part course is accessible for as little as $5!

For a limited time you can watch Episode 1 'The Call Of Destiny' for free! Simply click on the episode below to start watching. To continue the course and gain access to our entire video library you simply need to be a Spirit Lifestyle Member. As a member you choose how much you wish to pay per month and there is no contract, you can cancel at anytime! SUBSCRIBE HERE